Being a design manager

LECTURES AND WORKSHOP WERE HELD ON 22 AND 23 APRIL 2015 IN PRAGUE, ZLÍN AND ÚSTÍ NAD LABEM
DESIGNER AS MANAGER
Design management is a discipline that in our country has a long tradition, but it is more than clear that in the future it will take a prominent place. The fact that design management is not just the prerogative of company managers, but it can be a great help to the designer and the operation of their own studio or creative people, whether part of a large or small company. Amrita Bhui convinced the audience of this in three Czech cities. On Wednesday, April 23, 2015 she was keynote speaker at Zlin Design Week, the same evening she spoke at Prague Applied Arts. Thursday, 24 April, she lectured and led a practical workshop for students at FUD University of Ústí nad Labem.
DESIGN AS A PROCESS
LEGO, Nestle and many others. These are clients of Amrita Bhui. How to manage the design process to bring effective results? Through Dutch organization PARK, world leaders in design management and design leadership, Amrita is a leading global player in the successful realization of design and thus evaluates its market position.
FROM INDIA TO DUTCH PARK
Amrita started her successful career as a product designer after graduating from the National Institute of Design in India and Strategic Product Design at Delft University of Technology in the Netherlands. Since 2010 she has worked as a consultant in the organization PARK, where she leads the design process with companies worldwide. It is very important to be part of the process, together with our clients and thereby create a mutually rewarding relationship that brings results. Its clients include LEGO, Nestle, Reckitt Benckiser, Niko, and pioneering design management in the Czech Republic, the company Plastia.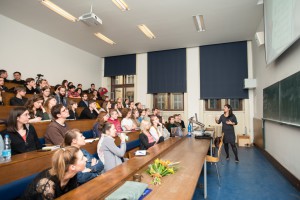 A SLIGHTLY DIFFERENT EVENT at AAAD

The view of design as a tool to generate profits, reduce costs and create added value for the customer on the grounds of universities is not a common perspective. The discussion after the lecture showed, however, that design management belongs right here.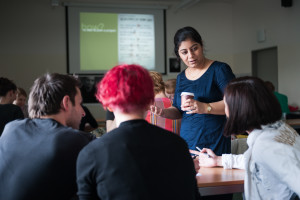 LECTURE and PRACTICAL WORKSHOP at FUD UJEP

On Thursday 23 April there was a one-day program for students and others from the Faculty of Art and Design in Ústí nad Labem. After the morning lecture there followed a practical workshop where twenty students tried out different tools of design management for a firm facing a loss of customers.