Design Council

LECTURE AND WORKSHOP WERE HELD ON 26 JANUARY 2016
IN PRAGUE AND CARLSBAD
THE BRITISH DESIGN COUNCIL VISITED PRAGUE
In January, we hosted the representatives of one of the most effective design center in the world – British Design Council. They presented their methods and approaches how to involve design into the practice in cooperation with companies, public sector and designers. The branch expert, Jonathan Ball, came discourse.
DESIGN IN OUR MIND
Design is a fashionable word. It goes through all spheres of our life. Companies, advertising agencies, state, regional and non-profit organisations and household work with design. Simply, design has dominated our mind.
What can we do to make design dominate even our way of working? How to set your mind, your team or the whole company up the way that creativity becomes a natural part of your projects?
DEMOCRATISING INNOVATION
Design Council calls this process "Democratising Innovation" and they told us how to use Design Thinking the way that everybody would know how to actively contribute to creativity, design and innovation within the working team or all the company and how to be motivated. The event was organized within the purview of Design for Europe project.
JONATHAN BALL
Jonathan Ball, one of Design Council's Design Associates, has built his career on using the practice of human-centred design to help organisations and brands achieve new levels of innovation. As a Programme Strategist at Design Council he has developed company's portfolio of business, public service and science programme. Alongside Design Council, Jonathan is Programme Director and Lead Instructor at LUMA Institute, Pittsburgh, USA and he was also involved in the first EU sponsored user-centred business support programme, Innovation by Design. He develops broadcasting and media cooperation as well.
LECTURE
DESIGN THINKING IN PRACTICE / HOW TO APPROACH A COMPANY BY DESIGN?
The lecture was held on January 26, at 6.30 p.m. at Academy of Applied Art, Architecture and Design ("UMPRUM") in Prague.
WORKSHOP
CREATIVE REGION – CARLSBAD REGION
The workshop which was aimed at the creativity development in Carlsbad region was held on  January 26, from 9:00 a.m. to 3:30 p.m. in the Bohemia Lignum company based in Dalovice.
PHOTOREPORT – LECTURE (author: Jan Hromadko)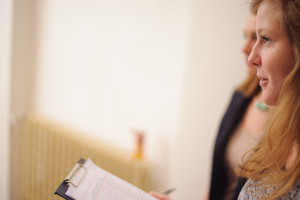 PHOTOREPORT - WORKSHOP (author: Aleksandra Chytrá)